What kind of student becomes a Teenage Tutor?
The simple answer is: grade 10, 11 and 12 boys and girls who maintain an Honours Level of scholastic achievement at their respective high schools.
But if I could generalize they're smart, ambitious young people who are looking for a flexible part-time job that pays well, and we do, well above the typical wage paid to people their age. Almost as importantly, in this age of highly competitive admissions criteria for university applicants, they're looking for opportunities to build their personal skills and CV's. Here's what one of our tutors wrote as part of a submission to admissions at the Ivey Business School at the University of Western Ontario: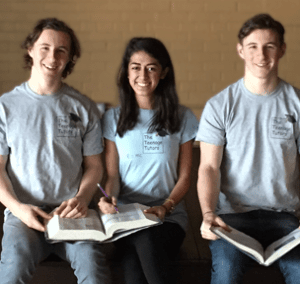 "This is one of the most rewarding experiences I could ask for and has benefitted me in many ways. Seeing the children push through their problems first hand, inspires me to excel in my own schooling.  To be a successful tutor,  you must commit to the children 100%, and when you're with them, they must have your undivided attention. Another way I have benefited is the fact that I have become a more well-rounded person.  Before starting this job in grade 11, most of my time was spent focusing on sports. Once I started, I changed as a person.  As soon as I started mentoring the children, I discovered my passion for helping people.  This job allows me to help out and make money at the same time. It is a dream job!  The honour roll requirement pushes me to stay on the honour roll in order to keep the job and I went from a 75 average student to the 90 average student I am now.  I stayed with sports and am still athletic to this day but by applying myself to this job, I became much more versatile and accomplished."
Are you an Honour Roll grade 10, 11 or 12 student looking for a flexible part-time opportunity? Click here to apply!