Convenient, affordable, high-quality tutoring in a wide area of subjects
In Person and Virtual Tutoring!
WHY CHOOSE TEENAGE TUTORS?
Convenient: we tutor in person and online at a time that works best for you and your child!

Highest quality: our tutors are, without exception, honour-roll students with a proven track record of excellence.

Affordable: $38 per hour.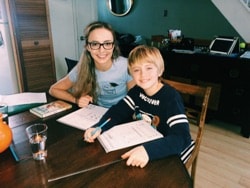 "Teenage Tutors has helped my daughter with her subjects and her self-confidence. The tutors are great role models for my daughter."
"Noelle found just the right tutor for my daughter: Math and Science in French immersion. A mentor for my daughter!"
"The tutors our daughter has had have become role models for her. They have helped her become more confident with her school work and with asking questions when she doesn't understand something. We will continue this type of tutoring as it works really well for our daughter."